Our Church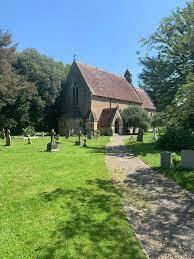 St John's church was built in 1865. The land was endowed by a wealthy farmer called William Temple. The money to build the church was raised in record time by public subscription. The foundation stone was laid on July 14th 1864 and and the church was dedicated by the Bishop of Salisbury on 21st September, only a year later. The total cost was £2,700. A list of major benefactors and subscribers with the amount each donated, appeared in the Warminster Journal. The altar was a gift from the Bishop of Salisbury and the bell was given by the ladies of the town.
In the first years, there were many gifts of furnishings and other items. Mr Temple's son, George, gave the reredos in 1868. The Baptistery was erected in 1925 and was a gift from Elizabeth Rule, a daughter of William Temple.
An unusual feature of the church is the collection of striking mosaics. These were given as gifts between the years of 1888 and 1915. They are typical of their time although it is unusual for one church to have such a large collection. They serve to enhance the beauty of the church and reflect the generosity of parishioners in days gone by.